Completed routes:
"Pokatushki" on hasanskomu to area, October, 21-22 2000 year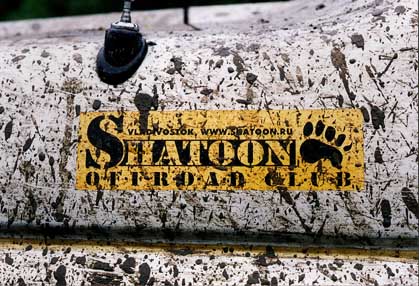 "Bezdorozhnaja" the part of a route has made about 25 kms.
General extent of a route has made about 400 kms.
Time of passage "bezdorozhnoj" parts of a route - about 6 hours (with repairs and smoke breaks).
Automobiles participated:

Nissan Safari dlinnobaznyj
Nissan Safari korotkobaznyj
Nissan Terrano
Toyota Land Cruiser BJ71, 2 piece.
MMC Pajero, 1994
Toyota Land Cruiser 40
Isydzy Bighorn
The main achievements:
1. Experience in firing for effect on lateral glasses moving "Bighornov" is received.
2. It is found out, that at appropriate management "Terrany" can fly. Some time.
3. Became obvious, that the group of 8 machines without radiofikatsii at all is not controlled.
4. Appeared, that water in the sea still completely not cold for bathing.
| | | |
| --- | --- | --- |
| | | To tell the truth, to be proud concerning these pokatushek there is especially nothing. What there to speak, even if gathering was in campings... |
| Have a little gambolled on pesochke. Well heavy machines on narrow rubber do not go on it(him)! | | |
| | | But it is possible to be photographed! So... |
| ...or so | | |
| | | Driver "Padzhero" very much was delighted to how has crossed rechku and at once its(her) one more time has decided to move. Has not left! |
| Berezhok a little bit artful, it was necessary to push all | | |
| | | "Padzhero", say, has overheated because of vzbiranija on mountain. |
| And then it was necessary 3 to potter hour with "Kruzerom" - as it was found out, it still "otrygivalas'" artful "Curve". | | |
| | | The route in a picturesque bay was finished. |
Such beautiful, "otdyhatel'nyj" a route. Now it is possible and on bogs SHkotovskogo a plateau on November thin ice?




© Shatoon, Vladivostok, 2000-2002
info@shatoon.ru