Offroad tjuning "on - Vladivostokski"
Nissan Safari 1988, Lazarev Innokenty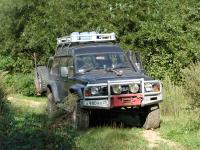 I in 99 year, under the passport it(he) 93, actually - have bought "Safarik" 88 years. I have bought his(its) already lifted on 20 see for the account prostavok under springs.
I on him(it) established the following equipment-
1) Lebedka mechanical, native, it is bought on disassembly b/u - 300 dol.
2) Has established in a luggage carrier an additional fuel tank on 90 l. Under own drawings - 100 dol. Unfortunately drawings were not kept.
3) Has mounted in a luggage carrier a bed above a tank - three persons sleep not concerning each other - 50 dol.
The master of company Dal'verf' 27-46-27 Pichugin Sergey Mihajlovich was engaged in a tank
4) Has established a luggage carrier, b/u, it is bought on a flea market - 200 dol.
5) Has replaced the back bridge with the bridge with blokiruemym in differential - 800 dol a minus 500 dol for the old bridge
6) Has established the back stabilizer, b/u, it is bought on a flea market - 100 dol.

7) GPS+??????? the aerial + a feed(meal) - 800 dol.

8) A shovel on a cowl - 150 dol.

9) A jack on zapasku - 200 dol.

As has established independent pechku WEBSTO in interior, what to sleep in the winter was comfortable.

All equipment to order and establish it is possible in company ROSNEK 22-10-09 Director Haljuto Dmitry.




© Shatoon, Vladivostok, 2000-2015
info@shatoon.ru